Last week I was lucky enough to be invited with my husband to witness an intense session between @BibliousOne and Mistress Elita. As a submissive bisexual I couldn't wait to see how the session would effect me, for I was aware of Elita's beauty and read about her skills but I was nervous as to how I'd feel about watching a friend receive the pain and pleasure.
As usual my nerves were calmed by the strong presence of my husband. The grounding support that has let me fly and explore in this fabulous world of kink. He kept me calm as I thought we'd be late (those that know me realise this causes me great concern) as I raced through the streets arriving at the hotel rather hot and flustered already.
I arrived with my camera (something I decided I wanted to keep at my side all weekend while at Eroticon just in case a time arose when I'd want it) but had already discussed with B1 that I wouldn't use it unless he asked, as he already had someone organised to take some images. As we drank champagne and chatted in his warm hotel room it turned out that my camera would be needed and suddenly my general feeling about the evening changed.
I'd come to watch but it was now time for me to participate. To document in a sensitive and unobtrusive manner what everyone was witnessing and to try and capture the connection between this Domme and her sub.
A sudden pressure situation which was time limited and in which I had no control over what was being done in front of me, but which I wanted to photograph well. Unsurprisingly this is exactly how I work best. Ok I like to be in control when I normally photograph myself, but I couldn't say – "just hold it there for a moment" or "can you just do that again slower as I missed it".
The scene in front of me unfolded with pace and my brain switched from hot gasps when she grabbed his nipples and then flogged him, to a focused creative space, looking at light, shape, framing and precise detail.
I wanted to try and capture some of the image showing the audience. May be best caught in B1's SinfulSunday post "With an audience". We were not only observing but complicit to the situation. Beautifully described in this blog post by @19syllables, and the amazing control from Mistress Elita that @theotherlivvy talked about here.
This image caught between the witnesses legs shows the fantastic movement that Elita possessed during the flogging. The swing of her hips balancing the swing of the Flogger.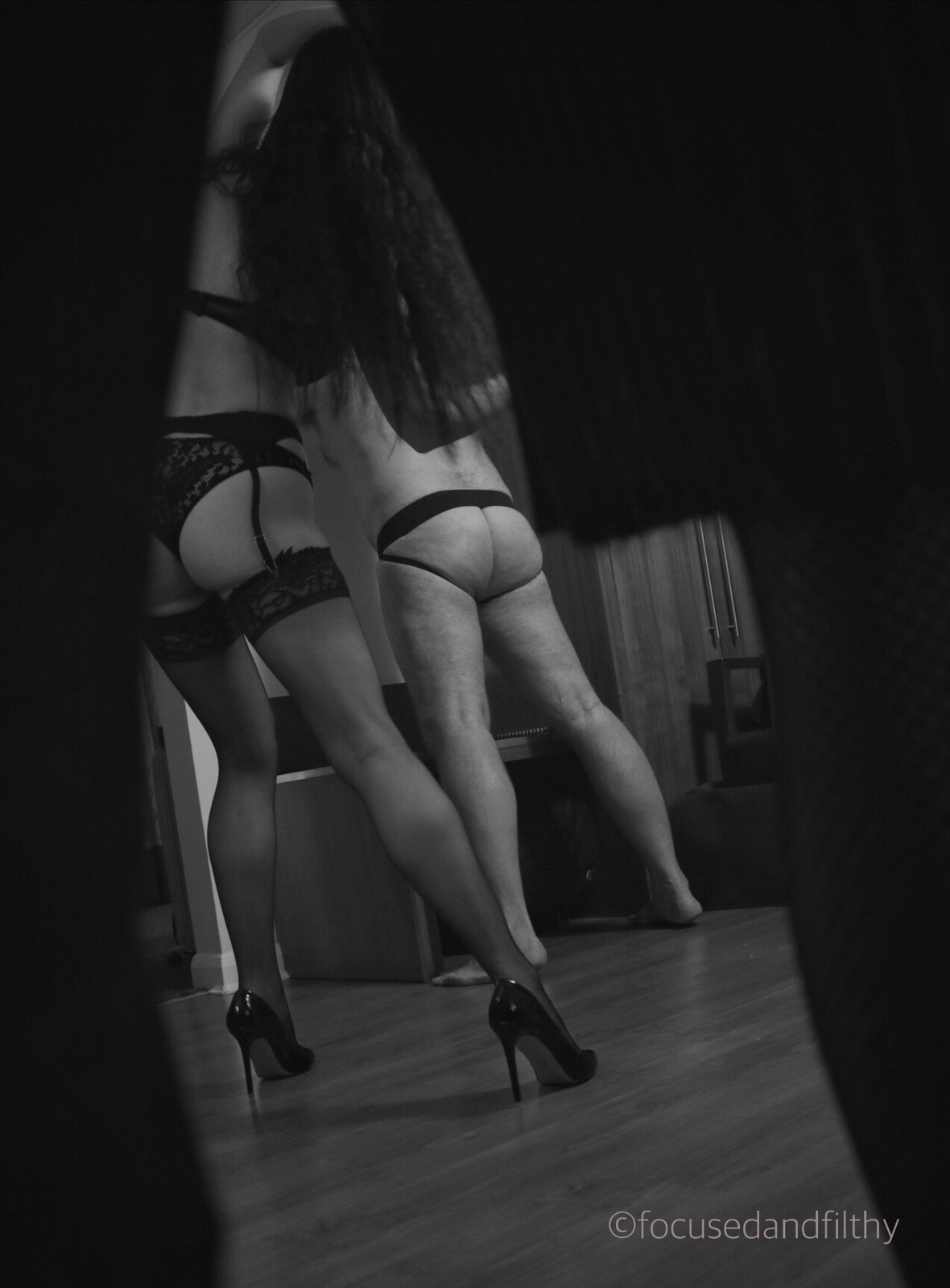 Painfully aware of the noise my camera shutter made each time I pressed the button I wondered if anyone else was actually listening or bothered. The noise from the Flogger and his sounds of pain held everyone else's attention.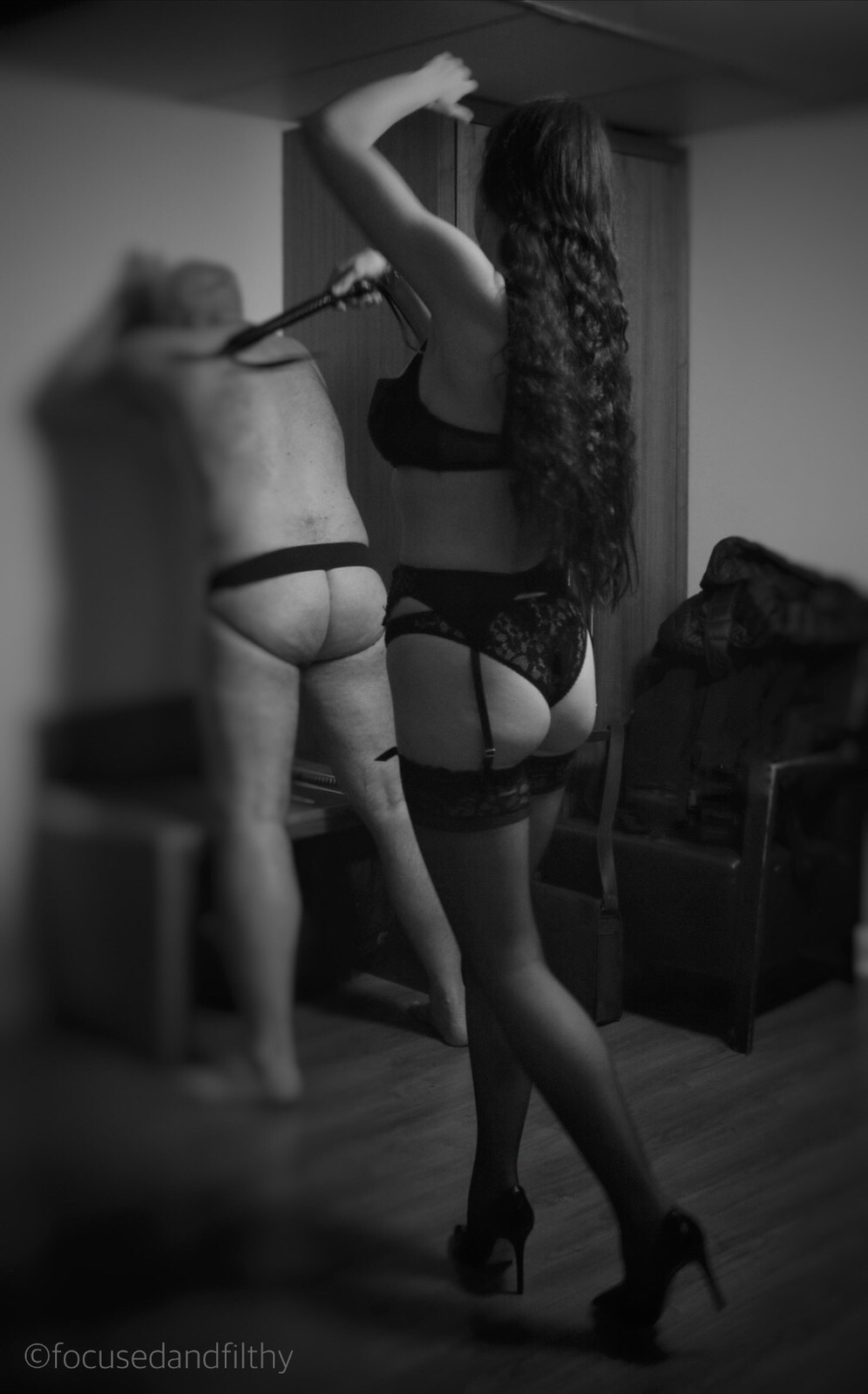 We moved into the bedroom area and not sure where I wanted to be with my camera made me move round the edge of the room. Not wanting to get in anyone's way but again worried about the angle and the framing of the pictures. Then the other photographer beckoned me over where she stood right at the end of the bed to get a better view and she was so right. The images of his arse then dominated the rest of the shots I took.
By this time I was almost oblivious to B1's pain. I had been taken over with the urge to try and get better and better images. Gone was my concern about the shutter noise or being in the way. The connection between the two seen through my lens was all the electricity I needed, to have my pulse racing and my fingers on the button triggering my personal pleasure. I have been aware of the intense pleasure getting good shots gave me before, but doing this for them, was so much more.
I was distant to the rest of the crowd and from the two in front of my lens but I was also so involved, my breaths probably matched theirs, as I pressed the camera button in pace with the impacts.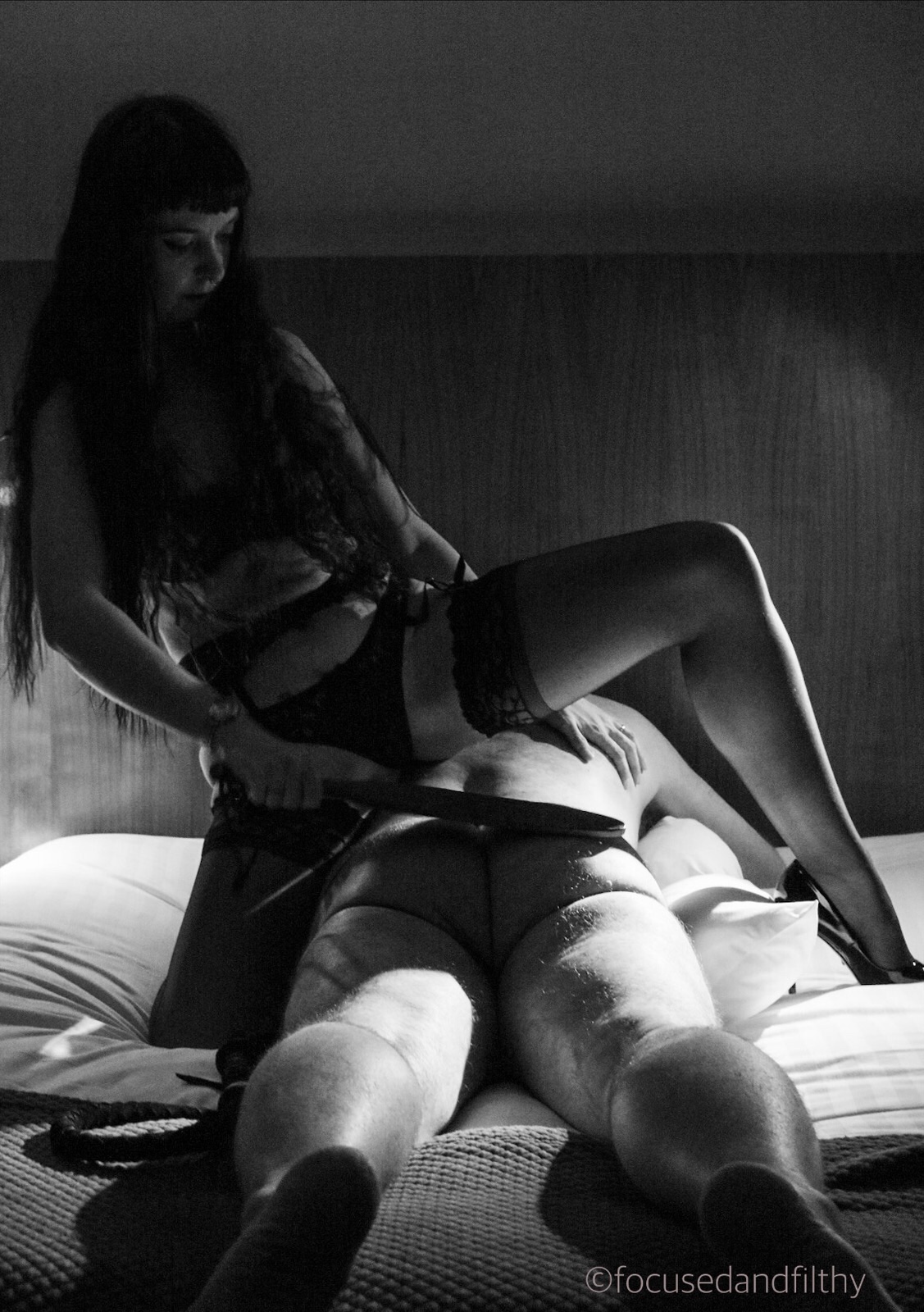 I caught the Flogger, the paddle, the cane but I hope I caught the intimacy in these acts, in bringing the pain and the pleasure, as we blended into the background. They shone bright through my lens.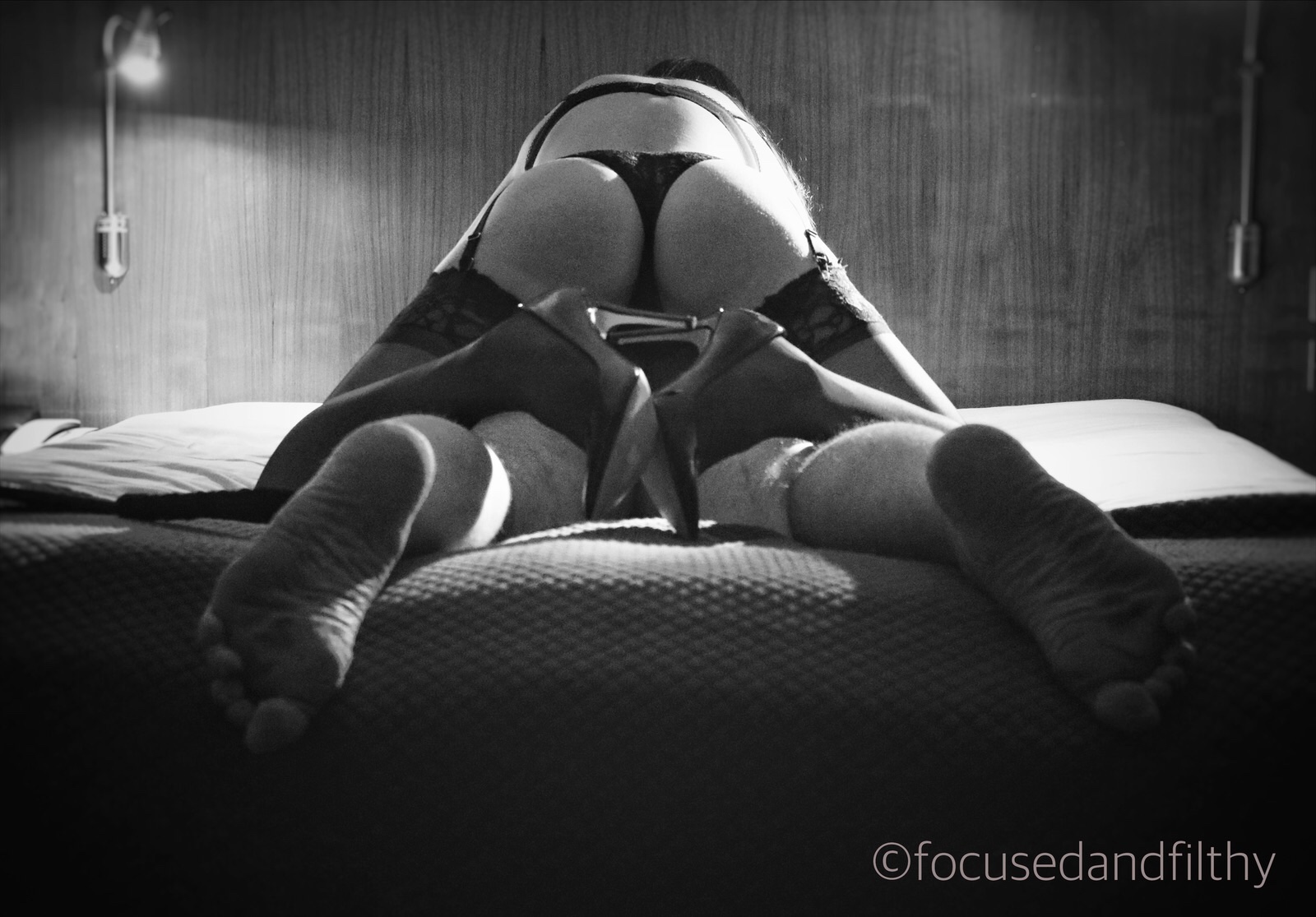 Read more of B1's thoughts on the session in his post a public beating.