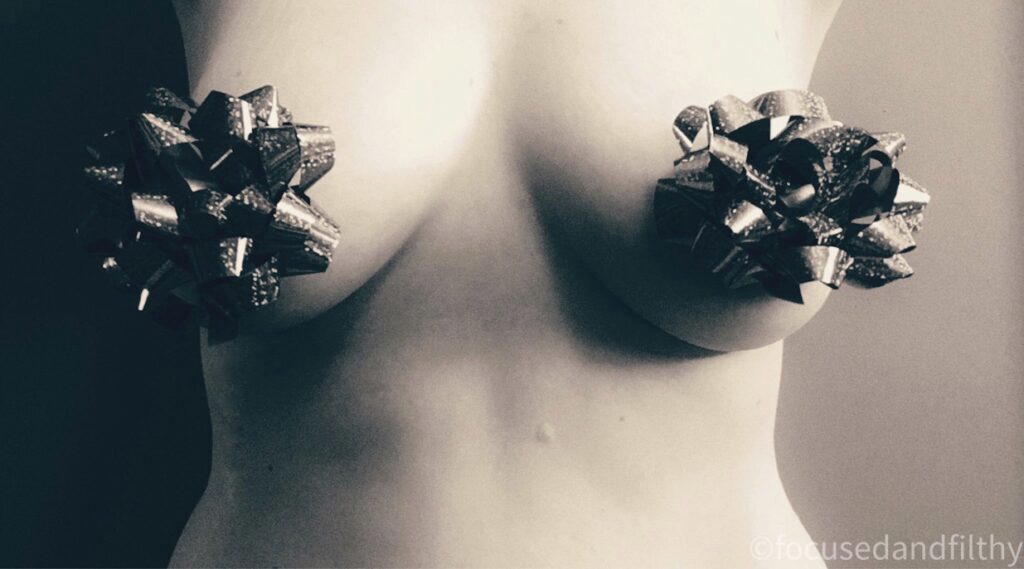 It was her birthday but she was offered up as the present. It was his idea but we'd all had a drink by this time and she may have been the most excited about it. She was the parcel to be passed around to the music and onto each lap and when the music stopped we could peel off a layer of her clothing.
She had looked glamorous all evening with a long dress on and I knew she had on stockings and a suspender belt on too. So including her shoes and her undies this gave us quite a few things to take off her.
She giggled delightfully as she went from knee to knee. Wiggling her butt, letting us run our hands over her body and teasing her. The music stopped and the first person carefully pulled off her shoes, kissing her deeply before letting the music start again and she jumped onto the next knee.
As my turn came round I made her stand up so I could put my hands up under her skirt accidentally brushing my hands up to her crotch as I peeled off her stockings and sneaked in some small thigh kisses too. I could smell how aroused she was and knew it would only increase.
When she ended up on my husband knee as the music stopped he enjoyed taking her knickers from her. Being the gift to pass round, the objectification of her but also the centre of attention and the physical adoration pushed many of her sexual buttons. My husband held her tightly on his lap and she could feel his stiff cock straining against his trousers. Kissing her open mouth while his fingers found her wet cunt. But before she could enjoy them too much the music started again and she groaned as he gently pushed her off his lap and onto the next person. He then looked me straight in the eye and beckoned me over to him. I crossed the floor on my hands and knees and he offered up his fingers to me. I took them into my mouth and tasted her juices on his fingers. Licking them clean we realised the room was buzzing.
Her other clothes didn't take long to be removed and as she got naked the rest of the room shed their clothes too. Although it was her birthday, she was the most beautiful gift given to us all.