I was asked to pick one of my favourite photographs and write a fictional piece to go with it. They seemed happy with my task so I thought I would share it here. So here is one of my most intimate photographs and originally used in this Kink of the Week post Fisting if you scroll down you'll see the full image.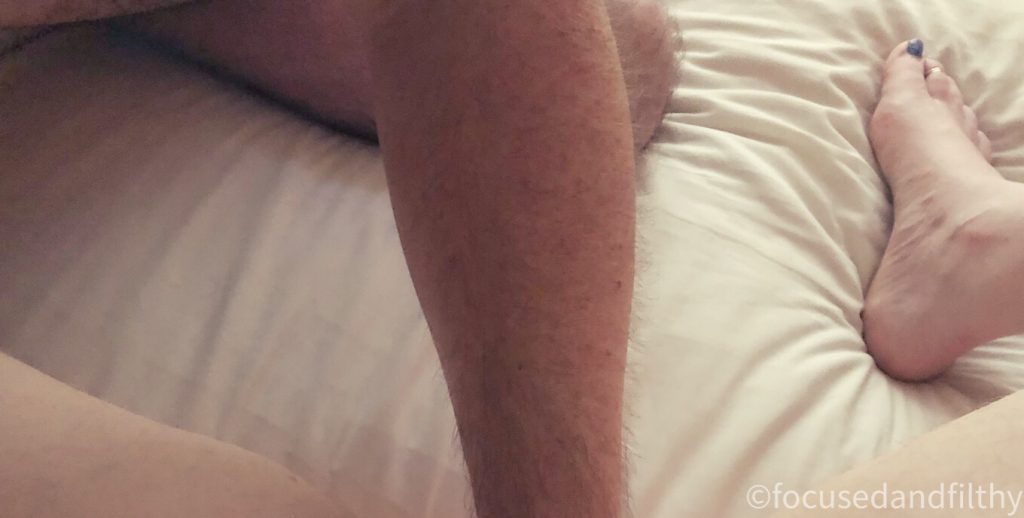 He promised the next time we all met that he would show her how to fist me. Just that sentence had kept me going for months and had fuelled many of my morning wanks. We had a weekend booked and every day we drew closer I could picture the scene and it made my cunt clench with anticipation.
I'd been on tenterhooks all day and as we sipped our drinks post dinner, chatting amicably about the past week and work, his tone suddenly changed and as he looked at me I knew what he was about to say. "I think it's about time for our tutorial" my heart raced as I could feel my cunt start to drip. "Remove all your clothes and come and lie here between us"
I stood up and raised my jumper dress over my head. Carefully folding it up and placing it on the floor. Followed by my bra and then my knickers. Stood naked among them while they were still all dressed may have seemed weird but it had happened before and would probably happen again.
I sat back on the sofa next to him and she shuffled onto the floor. Pulling over a cushion to sit on, perched beside his knee and close to mine.
"Lie back" he told me and I rested back, letting my knees fall open a touch. "Now let's see how wet it is already. We have to build up to it but I bet it won't take long for you and your small hands". I glanced from his large working hands to her slender fingers and wrist. I involuntary clenched again and looked across at her fella. He sat swilling his drink round his glass. Smiling his all knowing smile.
I felt two large fingers push into my wet cunt and groaned at the pleasure. "Already wet as I suspected" but the feeling was short lived as he pulled out his fingers and offered them to her. She sucked greedily on his fingers and I shivered at being open and exposed. "Now your turn" he said "the trick I find with this cunt is that just after it's orgasms it becomes stretchier and you can push in further but the most important part is the lube" he reached over and picked up a bottle of lube he'd obviously stashed there earlier and pumped some into his hand and smeared the cold liquid over my cunt. "I know it's already wet but we've got to lube up this outer section and your hand" I squirmed at the cold temperature and the slightly rough way he slavered it over my lips and down towards my arse. Rubbing it over my perineum and making me twitch. He then took a couple more pumps of the lube and smeared it over her hand. Not onto her fingers but over her knuckles and the outside of her thumb. He didn't once look at me. But the smile on her face when she glanced up at him made me giddy with delight.
She pushed two fingers into my cunt and moved up to three. "Give it a good going like that and I doubt it'll be long before an orgasm". Her pace was fast but steady. The noise of her lubed fingers and my wet lips made a deliciously embarrassing squelching noise and I felt my face flush. I glanced over to her fella watching – noticing his cock stirring in his trousers. I closed my eyes and the first waves of pleasure started to roll towards me and my cunt clenched around her fingers as I groaned and arched my back. "Push in four now and speed it up a little" he stated with the quiet calmness of a driving instructor teaching a learner to change gear. I didn't get much time before her four fingers had me panting again and squirming on the sofa. Twisting about I catch the eye of the observer, who had his cock in his hand and was gently stroking it. Being watched and talked about like an object made my next orgasm slam into me quickly. This time he voice changed "all of it now" for the first time she seemed to pause the pace and I saw he grabbed her wrist and pushed her. I was overwhelmed, her hand, his voice and it slipped into me. She had curled her fingers into a fist and was wrist deep. I was still panting. Still riding the wave, high and soaring. "Keep it in a fist and gently move it back and forth" he tells her. I'm getting louder with my moans and I can't help it. The deliciously full feeling is intense and I looked down at myself. Not quite able to see my cunt but watching her delightful smile on her face I flop my head back again.
"If you touch the clit now she might explode" and within a second I felt her tongue on my swollen clit and I involuntarily bucked upwards. I couldn't breathe, I couldn't see I wasn't even sure where I was.
I was her puppet, no longer in control, like some internal strings she was pulling being the only thing keeping me going. My breathe short and ragged. His voice broke through my fogged mind "Now pull it out completely but push back in straight away"
The emptiness I felt as she pulled out made me instantly cry out for her again. Luckily I was rewarded, not just once but twice. My orgasm gripped her wrist and made my juices drip down onto the sofa. "That's enough now" he says as she pulls her hand from me again and I slump back floppy and gasping. His instruction was not only for my well being but for his need. As she used her lubed up hand on his free and erect cock.